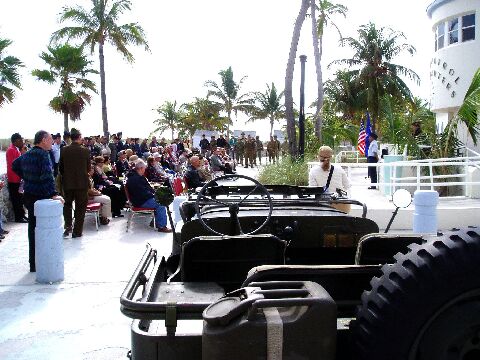 Sand in Our Boots 2003 was an awesome event for all the participants. There was an unexpected nip in the air but heaters were brought into Ocean's Ten for the sumptuous buffet breakfast. Things soon warmed up and the Pearl Harbor Remembrance Ceremony was held outdoors under a warm Florida sun. The City of Miami Beach was represented by Commissioner Richard Steinberg who spoke from his heart to those in attendance. Joe Pinon did an excellent job officiating the proceedings. We remembered Karil Vangeloff who passed away in January and shared a message from Forrest Clark, reunion founder, who was with us in spirit. The Miami Beach Civil Air Patrol Youth Cadets presented the colors. Bruce Lamberto and the reinactors set up an incredible display of military vehicles and a fully equipped M.A.S.H. tent (which one of the guys slept in 50 degrees to protect it!) Sheldon Brown's photo made the front page of Monday's Miami Herald.
There were two exhibits of memorabilia...one in the Art Deco Museum and one in the lobby of the Edison Hotel, the event headquarters. There were many new photos including a never-before-seen collection donated by Steve Accardi. The Edison display also included a pictorial history of Reunions 1999, 2000, 2001, and 2002 as well as Judith Berson-Levinson's collection of vintage pillow cover. The attendance was excellent for Judith's lecture/slide/film show at the Wolfsonian Museum.
A partial list of attendees included Shirley and four of the Vangeloff Bunch, Steve and Evelyn Accardi, Al Constantin, Ruth Elsasser, Conni Gordon, Eldrige Williams, George Harris, Dr. and Mrs. Charles Humphries, Morton Kail, Woody and Alma Sproul, Tom and daughter Sandy Tango, Harry Reis, Ed and Pat Nolan, Julian Goldman and Elaine, Shel and Freda Brown, Milt and Selma Robbins, Dorothea Ritter, and Tom Canale, who led a rendition of the Army Air Corps song. Also on hand were Carolyn Klepser, William Cary, Denise Karitis, Laura Jamieson, Lori Gold and Allan Hall, "Coach" Arnie, Iris and Barry Chase, Lloyd Mandell, Alan Shulman, Abe Lavender, Aimee Rodriguez and her niece, Georgia Santana and her mother, Jeremy Citron and his daughter, and many others.
Several new new Miami Beach vets were "discovered," including Samuel Cohen (Adams Hotel) and Clement Peterpau (Flamingo Hotel). They both live on the same street in Bay Harbor Island (but don't know it yet!) Many thanks to Mario Ramos, without whose help this reunion could not have happened, and Bruce Lamberto, who made the tent and vehicle display a reality and brought in the reinactors.
Thanks to those of you who have supported these events and made December 7th a very special and meaningful day in Miami Beach for the past five years.
Thanks for the memories,
Judith Berson-Levinson